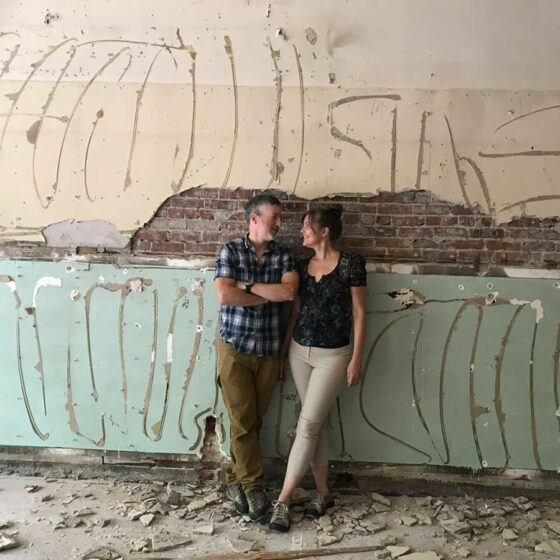 WHO ARE WE?
Heliotrope is a majority woman-owned business, with community at the core of all that we do.
We strive to cook and brew with as many local ingredients as possible, from produce grown within a few miles of the brewery, to barley harvested and malted here in Virginia.
Our walls are hung with rotating local artwork, not televisions, and our taproom is set with community tables intended to promote conversation with friends, new and old, over a shared meal or a round of beers.
Everyone is welcome at Heliotrope. We are family friendly, queer friendly, and we stand against racism and discrimination in all its forms.
We love soccer, 80's bands, and dogs.
We're proud to partner with artisan producers and our local farmers
Lexington Coffee Roasters, Hermitage Hollow Farm, Singing Earth Produce, Sunflower Flats Farm, Murphy & Rude Malting, Riverbend Malt House, Whistle Creek Apiary, Epiphany Craft Malt, Seasons'  Yield Farm, Halcyon Days Cider, Edible Landscaping, Verdant Acres Farm, Buffalo Creek Beef, Castle Hill Cidery, Hearthstone Farm,  Farmer Focus Paradox Farm, Olympia Provisions, Mama Lil's, Gracious Day Grains, Papa Weaver's Pork
Erik Jones
Co-Owner/Brewer
Hometown: Portland, OR
Favorite Band: The Clash, Spiritualized, The Jesus and Mary Chain
Favorite Beverage & Food Pairing: Pilsner and Low Country Boil
Fun Fact: In my spare time, I guide treks for my friends at Embark Exploration Company. I've climbed Kilimanjaro twice, and have been to Everest Base Camp more than ten times.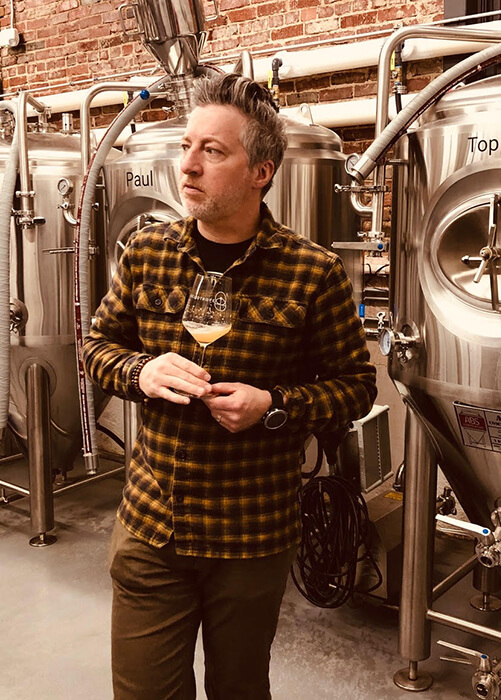 Jenefer Davies
Co-Owner
Hometown: Montoursville, PA
Favorite band: Billy Joel/Elton John
Favorite Beverage & food pairing: Lasagne & Cabernet Sauvignon
Fun Fact: I perform and teach aerial dance 50 feet in the air and recently wrote a textbook about it.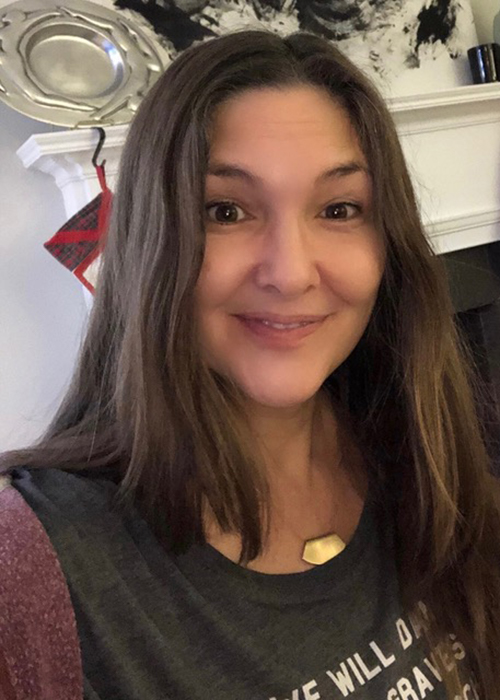 Hometown: Lexington
Favorite band: Green Day
Favorite drink & food pairing: Water and stir fry (I have lots of food allergies)
Fun fact: I cannot burp the alphabet
Hometown: Roanoke/ Lexington
Favorite band: I can't pick one! Here are my top three in no particular order: David Bowie, Depeche Mode, Spiritualized
Favorite drink & food pairing: Tequila-barrel aged gose and barbacoa tacos (with all the toppings)
Fun facts: I'm an aerial silks teacher, and I speak German! I'm currently studying at the University of Virginia.
Hometown: High Point, NC
Favorite band: Fleetwood Mac (favorite artist: James Taylor)
Favorite drink & food pairing: Mansplaining the Patriarchy & Za'atar Pizza
Fun fact: When I was a senior at Carolina, I won a radio competition and the prize was Flo Rida performing a private concert at my house during the Carolina-Duke Basketball game.
Hometown: Lexington
Favorite Band: Led Zeppelin/The Raconteurs
Favorite Food and Drink Pairing: H E Hoppy Sticks & Fig and Blue Cheese
Fun Fact: I lived in India for four years and I hiked the whole Appalachian Trail
Hometown: Lexington
Favorite band: I enjoy everything from classic rock to rap, just depends on my mood.
Favorite drink & food pairing: I love a good scotch.
Fun fact: I enjoy spending time with family and making shoes (amateur cobbler).
Hometown: Lexington
Favorite artist: Mac Miller
Favorite drink & food pairing: Seltzer and Heliotrope falafel pizza
Fun fact: I use paint to customize shoes
Hometown: Lexington, KY
Favorite band: The Avett Brothers
Favorite drink & food pairing: 18th & Morrison and Roasted Grape
Fun fact: I've lived in two Lexingtons!
Hometown: Lexington
Favorite band: Panic! At The Disco
Favorite drink & food pairing: New Boots Goofin (Heliotrope) paired with Fish Tacos
Fun fact: Third Degree Black Belt, dancer, and can say the ABCs backward
Hometown: Lexington
Favorite band: Flume
Fav food & drink: Any Beer and any pizza!
Fun fact: Triple Crown Thru-hiker. PCT '16, AT '17, CDT '19
Hometown: Napoli (Italia)
Favorite Band: Grateful Dead
Favorite Beverage & Food Pairings: Fiano e Spaghetti alle Vongole
Fun Fact: I met my wife riding the bicycle
Hometown: Lexington, VA

Favorite bands: Five Iron Frenzy / Streetlight Manifesto

Favorite drink & food pairing: IPAs and Mac and Cheese

Fun fact: I can lick my elbow and wiggle my ears!