On Sat, Oct 7th from noon-6pm, bike between three local, family-owned breweries and celebrate Oktoberfest with new beers, food, and music. Pick up a biketoberfest wrist band at any participating brewery for discounts at all of them! This self-guided ride includes downloadable maps for biking as well as a schedule of vans lifts between breweries. Donations for van rides are accepted and will go to support RATS.
Online registration and digital maps are below.
Great Valley Farm Brewery & Winery, 60 Great Valley Lane, Natural Bridge, VA
Heliotrope Brewery, 128 S Main Street, Lexington, VA
Rockbridge Brewery & Vineyard, 35 Hillview Rd, Raphine, VA
Biketoberfest Registration
Must read the safety information below before registering.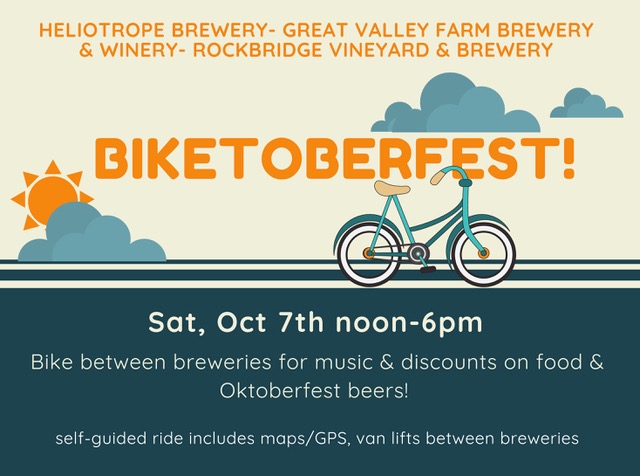 GPS/Map/Directions
Heliotrope to Great Valley Farm Brewery & Winery
12.9 miles  •  +1066/-772 ft  •  Paved
Heliotrope to Rockbridge Vineyard & Brewery
20.5 miles  •  +2,130 ft/-1,280 ft  •  Paved
Great Valley Farm Brewery/Winery to Heliotrope to Rockbridge Vineyard/Brewery
33.3 miles  •  +2,652 ft/ -2,2090 ft  •  Paved
Grand Loop- Heliotrope to Rockbridge Vineyard/Brewery to Great Valley Farm Brewery/Winery and back to Heliotrope
82.8 miles •  +5,425 ft/ -5,422 ft •  Paved
Need a ride back to your car?
See the R.A.T.S. van pick up/drop off schedule below. Biketoberfest is a fundraiser for RATS. Please give a donation to the driver if you use their services.
2:00 Rockbridge Vineyard/Brewery pick up
2:30 Heliotrope drop off/pick up
3:00 Great Valley Farm Brewery/Winery drop off/pick up
3:30 Heliotrope drop off/pick up
4:00 Rockbridge Vineyard/Brewery drop off/pick up
4:30 Heliotrope drop off/pick up
5:00 Great Valley Farm Winery/Brewery drop off/pick up
5:30 Heliotrope drop off/pick up
6:00 Rockbridge Vineyard/Brewery drop off
Bike Safety Information — MUST READ Before Registering
User assumes all risk and liability for any action in relations to usage of information and routes on transvirginia.org, including if actions result in injury, death, loss or damage of personal property or other complications. Village to Village Press, LLC, its partners, associates, and contributors accept no liability. Route information and advice is provided as a planning resource only, and is not guaranteed to be accurate or complete, and in no way should replace your own due diligence, research, and safety precautions. All users are advised to check current conditions before embarking on any route, including weather, surface conditions and closures. Riders should obey all laws including public and private land usage restrictions and guidelines and carry adequate safety and navigational equipment.
Participating in this bike ride means that you agree to follow the bike safety rules set out by the National Safety Council.
Cyclists, Check Your Equipment
Always inspect your bike prior to riding.
The seat should be adjusted to the proper height and locked in place
Make certain all parts are secure and working properly
Check that the tires are inflated properly
Make sure the bike is equipped with reflectors on the rear, front, pedals and spokes
A horn or bell, a rear-view mirror and a bright headlight also are recommended
Plan to Be Seen
Make certain drivers can see you.
Wear neon, fluorescent or other bright clothing
Whenever possible, ride during the day
If you must ride at night, wear reflective clothing and use flashing lights
Wear a Helmet
Helmets appropriate for bicycling should be worn by everyone – adults and children – on every bike ride regardless of length of the ride. Make certain the helmet is certified by the Consumer Product Safety Commission.
Follow these guidelines from NHTSA to properly fit the helmet:
Adjust sizing pads or fit ring until the helmet is snug
Position the helmet level on your head, covering the forehead and not tipped backward or forward; this will be about one to two finger widths above the eyebrow
Adjust the side straps so they form a "V" shape under and slightly in front of your ears
Center the buckle on the chin strap under your chin
Buckle and tighten the chin strap until it is snug; no more than one to two fingers should be able to fit between the chin and strap
When fitted, the helmet should not rock more than 1 inch side to side or front to back on your head
Watch Fitting a Bicycle Helmet
Follow These Rules of the Road
Stay safe by following these rules:
Get acquainted with traffic laws; bicyclists must follow the same rules as motorists
Ride single-file in the direction of traffic
Remain alert, keep your head up and look around; watch for opening car doors and other hazards
Use hand signals when turning and use extra care at intersections
Never hitch onto cars
Before entering traffic, stop and look left, right, left again and over your shoulder
Stay hydrated. Do not overexert yourself in the sun/heat. Take breaks, if necessary.
Ride the R.A.T.S. van back to your car if you're tired. For more safety info: https://www.nsc.org/community-safety/safety-topics/seasonal-safety/summer-safety/bicycles